Pete and I had a beautiful boy, Daniel, in 1987. Like Braxton, Daniel was born with a chromosome imbalance. Unlike Braxton, Daniel did not live. My heart aches for this family because I know what it's like to hear those words. At this time of year, I always think of Daniel – yes, even 27 years later. If you can, make a donation to help this family make their boy's life better. If you do, please consider donating in memory of Daniel Marek Mallory. If you're not able to make a cash donation, please pray for Braxton and his family. I know about Braxton through a good friend from "home" (New Smyrna Beach). Peace to all. Jeannine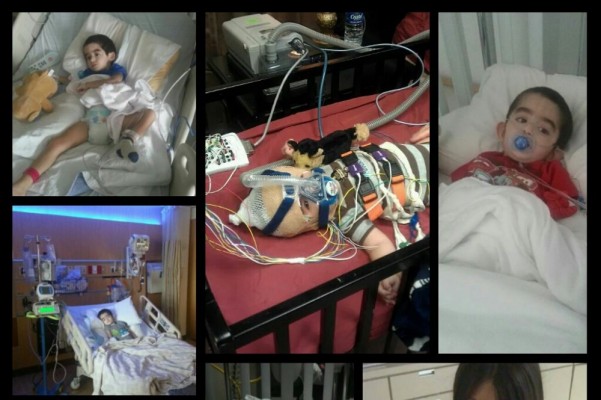 Braxton was born on December 17, 2010 by emergency c-section after a 28-hour failed labor. He was born unresponsive and had to be resuscitated immediately upon delivery. I didn't get to see him, but I heard my doctor say, "He's ok, but he needs some help." Braxton was taken to the nursery, where doctors decided that they didn't have the proper equipment to care for him and that he needed a Neonatal Intensive Care Unit. The closest NICU was full, so Braxton travelled by ambulance with a NICU transport team to Florida Hospital for Children in Orlando, over an hour away from home.
Once Braxton got settled into the NICU, one of the doctors called me by phone since I was still in the hospital recovering from surgery, and told me that he thought that Braxton had a rare genetic disorder known as Trisomy 18 and that I "should do the humane thing and not be aggressive with his treatment." Without being too blunt, he told me to let my child die. I decided that Braxton needed all of the help that he could possibly get and I hung up the phone and cried for hours.
I was finally able to go see Braxton in the NICU after 2 days of being in the hospital and it was a scary sight to see. He was hooked up to all different types of monitors and was also on C-PAP for his respiratory issues. This was my first time ever holding him or seeing him and I could tell that something was wrong with my baby, but nobody knew exactly what.
Braxton had hundreds of tests and after a long waiting game, we finally had some answers. On Christmas Eve, our night shift nurse told me that Braxton's chromosome analysis had come back NORMAL! I was so beyond happy and I felt that we were out of the woods. Sadly, on Christmas Day, a nurse practitioner called me with heartbreaking news that Braxton had a very rare chromosome abnormality and that they didn't have any other information for me, but that a geneticist would meet with me in a few days. I was confused why I was told that the results were normal but then was told they were very abnormal. Unfortunately, a nurse spoke when she shouldn't have and she had given me incorrect results. After the meeting, the geneticist was able to tell me that Braxton's chromosome abnormality has never been found in a live fetus. He is the only one in HISTORY with this particular genetic rearrangement. It is called a Partial Monsomy 20p/Partial Trisomy 1q. Because he is the only one, there are no other cases to compare him to. We won't know what will happen with his health or his development. Every single day is a "wait and see" game.
Braxton spent a total of 43 days in the NICU and 4 surgeries later, he was sent home with a gastrostomy tube (g-tube) due to silent aspiration. He was diagnosed with polycystic kidney disease, polycystic liver disease, hypoplasia of the corpus callosum, hypotonia, bilateral vesicourethral reflux, laryngomalacia, tracheomalacia, micrognathia, plagiocephaly, hypospadia, and a laryngal cleft.
After a surgery and PICU admission in April 2011 involving his airway and a lot of intubation/extubation, Braxton then came down with the Adenovirus and was hospitalized a second time in the PICU. He has struggled severely with RSV infections and has been hospitalized twice for it. His most serious infection was in February 2014 with salmonella bacteremia, which could have easily claimed his life. He has had a total of 7 surgeries in his short little life and more illnesses than I can begin to count.
Despite all of his struggles, he is the happiest little boy that you could ever set your eyes on. He will be 4 years old on December 17th and he is still not walking or talking, but we have high hopes for him! Braxton has several devices that he uses at his school that help him with his mobility and he lights up whenever he has the chance to use them! He could really benefit from having these devices at home, but they are not covered by insurance and the pricing quote on each device is around $3,500. He needs a rolling stander, an electric wheelchair, an activity chair, and a gait trainer. Not only does he need mobility assistance, but we would love to buy a house that is equipped for his needs. He will soon be getting a hospital-style bed and needs his own personal space, especially when he is sick. Right now, we live in an apartment that does not meet his medical needs for the future and we don't want him to ever go without having exactly what he needs.
Please consider donating to my son, Braxton, and to all of his needs that make him so special. We are so grateful for any contribution that you can make!
To help, visit GoFundMe   http://www.gofundme.com/iwwpko