Archive for the 'Uncategorized' Category
I cannot wait to sing to her.
"The heavens declare the glory of God, and the sky above proclaims his handiwork." Psalm 19:1″
Beautiful views from my porch this Easter Week remind me of a song by the artist known in my time as Cat Stevens.
Mine is the sunlight, mine is the morning
Born of the One Light, Eden saw play
Praise with elation, praise every morning
God's recreation of the new day.
Pete and I had a beautiful boy, Daniel, in 1987. Like Braxton, Daniel was born with a chromosome imbalance. Unlike Braxton, Daniel did not live. My heart aches for this family because I know what it's like to hear those words. At this time of year, I always think of Daniel – yes, even 27 years later. If you can, make a donation to help this family make their boy's life better. If you do, please consider donating in memory of Daniel Marek Mallory. If you're not able to make a cash donation, please pray for Braxton and his family. I know about Braxton through a good friend from "home" (New Smyrna Beach). Peace to all. Jeannine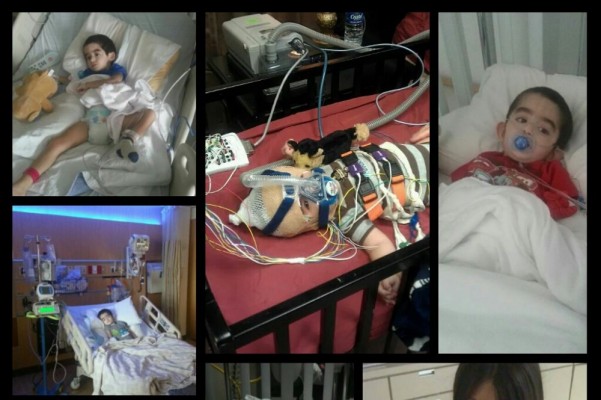 Braxton was born on December 17, 2010 by emergency c-section after a 28-hour failed labor. He was born unresponsive and had to be resuscitated immediately upon delivery. I didn't get to see him, but I heard my doctor say, "He's ok, but he needs some help." Braxton was taken to the nursery, where doctors decided that they didn't have the proper equipment to care for him and that he needed a Neonatal Intensive Care Unit. The closest NICU was full, so Braxton travelled by ambulance with a NICU transport team to Florida Hospital for Children in Orlando, over an hour away from home.
Once Braxton got settled into the NICU, one of the doctors called me by phone since I was still in the hospital recovering from surgery, and told me that he thought that Braxton had a rare genetic disorder known as Trisomy 18 and that I "should do the humane thing and not be aggressive with his treatment." Without being too blunt, he told me to let my child die. I decided that Braxton needed all of the help that he could possibly get and I hung up the phone and cried for hours.
I was finally able to go see Braxton in the NICU after 2 days of being in the hospital and it was a scary sight to see. He was hooked up to all different types of monitors and was also on C-PAP for his respiratory issues. This was my first time ever holding him or seeing him and I could tell that something was wrong with my baby, but nobody knew exactly what.
Braxton had hundreds of tests and after a long waiting game, we finally had some answers. On Christmas Eve, our night shift nurse told me that Braxton's chromosome analysis had come back NORMAL! I was so beyond happy and I felt that we were out of the woods. Sadly, on Christmas Day, a nurse practitioner called me with heartbreaking news that Braxton had a very rare chromosome abnormality and that they didn't have any other information for me, but that a geneticist would meet with me in a few days. I was confused why I was told that the results were normal but then was told they were very abnormal. Unfortunately, a nurse spoke when she shouldn't have and she had given me incorrect results. After the meeting, the geneticist was able to tell me that Braxton's chromosome abnormality has never been found in a live fetus. He is the only one in HISTORY with this particular genetic rearrangement. It is called a Partial Monsomy 20p/Partial Trisomy 1q. Because he is the only one, there are no other cases to compare him to. We won't know what will happen with his health or his development. Every single day is a "wait and see" game.
Braxton spent a total of 43 days in the NICU and 4 surgeries later, he was sent home with a gastrostomy tube (g-tube) due to silent aspiration. He was diagnosed with polycystic kidney disease, polycystic liver disease, hypoplasia of the corpus callosum, hypotonia, bilateral vesicourethral reflux, laryngomalacia, tracheomalacia, micrognathia, plagiocephaly, hypospadia, and a laryngal cleft.
After a surgery and PICU admission in April 2011 involving his airway and a lot of intubation/extubation, Braxton then came down with the Adenovirus and was hospitalized a second time in the PICU. He has struggled severely with RSV infections and has been hospitalized twice for it. His most serious infection was in February 2014 with salmonella bacteremia, which could have easily claimed his life. He has had a total of 7 surgeries in his short little life and more illnesses than I can begin to count.
Despite all of his struggles, he is the happiest little boy that you could ever set your eyes on. He will be 4 years old on December 17th and he is still not walking or talking, but we have high hopes for him! Braxton has several devices that he uses at his school that help him with his mobility and he lights up whenever he has the chance to use them! He could really benefit from having these devices at home, but they are not covered by insurance and the pricing quote on each device is around $3,500. He needs a rolling stander, an electric wheelchair, an activity chair, and a gait trainer. Not only does he need mobility assistance, but we would love to buy a house that is equipped for his needs. He will soon be getting a hospital-style bed and needs his own personal space, especially when he is sick. Right now, we live in an apartment that does not meet his medical needs for the future and we don't want him to ever go without having exactly what he needs.
Please consider donating to my son, Braxton, and to all of his needs that make him so special. We are so grateful for any contribution that you can make!
To help, visit GoFundMe   http://www.gofundme.com/iwwpko
Boy, do I feel like crap. I guess 20 years in the mean, rude Tampa Bay area made me mean and rude, too. I've learned a big lesson about myself today. BIG LESSON. I need to be quieter and more in the moment.
I moved here to find peace,quiet, harmony, and friendly people. Apparently, I did not bring that energy into my new environment. I'm trying to learn about life and society up here. It's such a change from the bad Big City. And my words/action are perceived differently here. It's amazing…the difference. Today, I hurt a young lady's feelings when I thought I was being kind.
You never know how others will interpret your words or deeds.
Let there be peace on earth, and let it begin with me.
In September, I moved from the big-city evils of St. Petersburg, FL to the most glorious town in the state
– High Springs. I'd been coming up to visit a dear friend here on her horse farm. I always said, "I'm gonna live up here one day."
She said, "I'll believe it when I see it."
Well, when my beloved Golden Retriever, Barbara, passed away, I could no longer live in the house where we'd shared so many happy and horrendous memories. I saw her everywhere I looked. I hated to venture out of the house when she was in my life, and with her gone, I became a recluse. Cried and missed my best friend. She had such great times here. I brought her up here when I knew then end was near, and we had the time of our lives. Road trips, running without a leash in green fields, chasing horses, barking at the big TV.
I knew I had to be here. My house sold four days after I signed with the Realtor. I moved here and feel myself unwinding, letting go of the anxiety and sorrow.
Clear rivers and streams for kayaking. Winding country roads that might lead to an endless field of cotton or big rolls of hay to infinity.
I keep waiting for something bad to happen. God, I miss my dog, but I know she's with me. She would have wanted me to follow my dream. Something about doing that has released the weight in my soul and psyche. I can sleep! I don't have to keep the TV on as a way to drown out the sirens and traffic.
Are you living your dream? Do you even have one? It doesn't have to be something as big as moving away. Dreams come in all sizes. Find yours, and pursue it. Then you'll know the feeling of and joy and empowerment that comes with knowing YOU (and God, and maybe a special four-legged "child") dreamed it…then achieved it!
Today is my one-month anniversary here in the country. It has been 98 percent wonderful, better than expected – but two percent unpleasant.
Boxes still fill my garage. In all my prior moves, I've had another person with me. Unpacking can be almost fun when you're working with someone else. When you're alone, it's easy to procrastinate. My new place has two fewer rooms than did my old place, so there's the problem of finding a home for all my stuff. I'm glad I got rid of things before I left.
I've driven miles on country roads, just enjoying the vast expanses of green. And intricately plowed hayfields. Planted pines stand like soldiers in formation. Dirt roads lead to surprises such as a zebra farm, abandoned mansions, and squatters' camps. I've met the friendliest people in the world. I've become a hospice volunteer.
It's been an adventure to poke around antique and thrift stores to find furniture and accessories for my new place since I left my "beachy" furniture with my old house. I've even planted some fall flowers to give some color to my front porch and yardette.
I've made new friends. I've learned new things about old friends. I'm seeing the world through the eyes of a fifth grader who calls me Aunt. I wear the title proudly. We have adventures in the woods, and his eyes light up when he makes a discovery or makes me laugh.
I don't worry as much. I sleep better.
Still miserable without my dog. And daily, I wonder why I decided to move into a place that has a "no pets" policy. She did more for my mental health than any pill or blue sky. Wondering how I will be as the months turn cold and I have no one to cuddle with, no one to talk to.
I know this is the right place for me. But I also know that Heaven does not exist on earth.
I signed the closing docs on my house today. Yay! 
Everything's on for me to leave Tampa Bay behind on Monday. Can't wait to see how this "Live your dream" thing works out.